Sutri: Walk a historic trail to the "other" Colosseum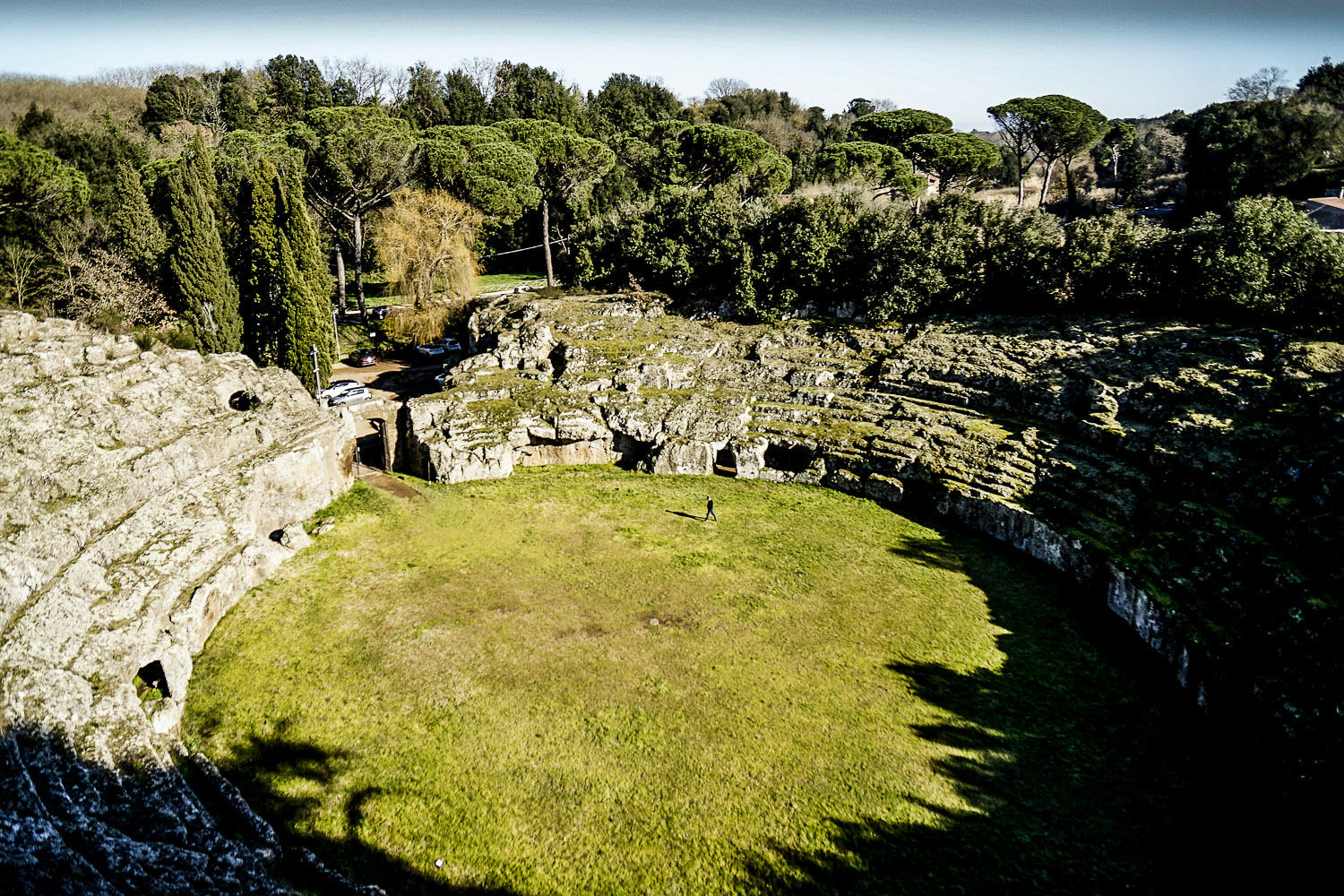 You can come to Rome and say you've seen the Colosseum but if you want to see its predecessor you must go 30 miles (50 kilometers) to the north. In the little town of Sutri lies a Roman amphitheater that was also used for gladiator battles. It was built between the 2nd-1st centuries B.C., about 100 years before the one in the middle of Rome.
The amphitheater is the main attraction to a town dripping with historical significance. It features a dark, eerie Roman necropolis and is a major rest stop on the famed Via Francigena pilgrimage trail before it reaches Rome. Sutri is built on a hill in between a series of ravines. Its old town and main piazza are wonderful areas to wander and hang out. Go tour a 12th century cathedral then take a cappuccino next to a restaurant in a building where World War II refugees and priests once ate. If you drive, you'll reach it on Via Cassia.Built in 107 B.C., it linked Ancient Rome with Florence and remains one of the prettiest roads in Italy. We came for Valentine's Day and had two days of romantic solitude. It was void of tourists.
Via Francigena
When you visit Sutri, you'll inevitably run into haggard hikers carrying big backpacks. They are hiking the Via Francigena, an 1,080-mile (1,800 kilometer) trail from Canterbury, England, to Rome.
It covers some of the same Ancient Roman roads Hannibal used when he approached Rome in the 3rd century B.C. Ever since Sigeric, the Archbishop of Canterbury, walked to Rome after Pope John XV named him a cardinal in the 10th century, this trail has become a major pilgrimage.
Around the 8th century the Francigena was the main connection between Southern and Northern Europe.
Merchants, armies and pilgrims used it to cross the continent. Today, few people hike the whole trail but we met one Swiss woman who had just spent four days hiking from Rome.
The trail goes right through Sutri where you can see numerous signs showing hikers the way.
In fact, the trail follows along the side of the Necropolis. Sutri is a reasonable rest stop before the final push to Rome.
On the way you can stop at Campagnano di Roma and/or La Storta which is 12 miles from the Vatican. As you enter Rome from the hills, you get a great view of the city.
Amphitheater: You pass a small archway next to the small ticket counter. Inside is an expanse of grass 50 x 40 meters lush enough to pass for a golf course fairway. Encircling the ground are rows of what were once stands that seated 9,000 people more than 2,000 years ago. This is where gladiators battled and actors entertained.
It's also where I once died. Yes, I performed here. In 2002, during my first stint living in Rome, I went to the Rome Gladiator School. Upon my graduation, we held a performance in Sutri's Amphitheater. I played a Praetorian guard who died during a fake mob scene in front of about 1,000 curious locals. 
On Valentine's Day Marina and I walked through the tunnel from the changing area behind the complex and into the grounds. Today you can still climb to the top for a wonderful panoramic view of the amphitheater.
Info: Located on Via Cassia down the hill leading to Sutri's old town. 39-07-61-609-393. Cost: €5. 9 a.m.-4 p.m. Tuesday-Friday, 10 a.m.-5 p.m. Saturday-Sunday. Pay €8 and include Mithraeum, a 13th century church that once was an Etruscan burial ground and then a pagan place of worship.
Necropolis: Hauntingly lining the rock walls outside the Amphitheater like a series of dungeons is the ancient Necropolis. They are 64 tombs stretching 180 meters dating back to the Roman Empire. Not much is known about the tombs as they were pillaged clean during the Middle Ages. Archaeologists suspect they were used from the 1st-4th century A.D. and where Romans buried the sarcophagi of high-ranking families.
Today they are empty and can not be entered. But they can be seen just driving by on Via Cassia. Closer inspection shows single-chamber and double-chamber tombs and some with arched entryways. It's believed that after looters cleaned them out, they were used as storehouses and stables.
Info: Adjacent to Amphitheater. Cost: Free. 39-07-61-609-393.
Old Town: Make the short walk up the hill from the Amphitheater and see Sutri as it is today.
The road will lead past retail stores hawking local food and wine and leads to Piazza del Comune. Old men commandeer tables in the sun and drink espresso. A gurgling fountain anchors the piazza. At one end is a huge archway with a clock tower. Next to the clock tower is La Sfera d'Oro (See Where to Eat below.) built in a palace once used as a seminary. During World War II, it housed and fed war refugees and priests. A short walk away at Piazza del Duomo 1 is the Church of Santa Maria Assunta. Built in the 12th century, it had a Baroque makeover in the 17th century and other renovations in the 19th century.
But the 10th century bell tower that can be seen for miles still stands. Check out the remarkable relief work on the inside walls and ceiling murals.
30 miles north of Rome.
How to get there: Driving is the best option. It's an hour along historic Via Cassia.
Buses leave Rome's Piazzale Flaminio railway station every 30 minutes. The 1 hour, 50-minute trip has two changes and is €4-18. The closest train station is Capranica-Sutri, about two hours from Rome and a 10-minute taxi ride from Sutri. Train is €6-11 and taxi is €15-19.
Antico Borgo di Sutri, S.S. Cassia KM 46.7, 39-07-61-586-988, https://ilborgodisutri.it/, info@anticoborgodisutri.it. Built about four decades ago, the four-star hotel rests in a 20-acre (8-hectare) park about three miles south of Sutri. It features balconies overlooking the countryside and a big patio. The tiny, romantic Our Lady of Lourdes church adjacent to the hotel is popular for renewing wedding vows. I paid €106 for one night.
Il Vescovado, Via del Vescovado 9, 39-08-61-608-811, https://www.instagram.com/vescovado_restaurant/?hl=it, 9 a.m.-10 p.m. Tuesday-Sunday. Sit under an archway with art covering the walls near the fire where they prepare local dishes. I paid only €42 for two fixed-priced set meals on Valentine's Day.
La Sfera d'Oro, Piazza del Comune 36, 39-07-61-600-030, http://www.e-choose.it/item/la-sfera-doro/, noon-3:30, 7-11:30 p.m. Wednesday-Monday. Seventy-year-old restaurant is third-generation family run restaurant featuring scattered antiques and a photo of the main piazza from 1900. My pappardalle di lepre (wide, flat homemade noodles with wild hare sauce) was excellent. I paid €33.50 for two.