Paganico Sabino: A great view to a revival story
We've done many TraveLazio blogs on lakeside towns, but that's one of the beauties of Lazio. It's dotted with lakes and an ancient citizenry who was smart enough to build near them.
Paganico Sabino is one of those places. Located about 50 miles (80 kilometers) northeast of Rome near the town of Rieti, Paganico has only 148 inhabitants. But their town treats them every day to a panoramic view of Lago di Turano, an artificial lake built between 1936-39.
The town is part of the natural reserve of Monte Cervia and Monte Navegna. Recently, Paganico began a process to increase its artistic, cultural and heritage traditions.
1 • Le Gole dell'Obito. Between Monte Cervia and Monte Navegna you can admire all the area's natural beauty on a 1,000-year-old trekking trail. It connects Paganico with nearby municipalities such as the Vecchia Mola and the Sorgente Fonte della Signora and you also cross an old Roman bridge.
You can gaze at the gorges' walls where there's an eagle's nest which sometimes has the beautiful bird as an occupant.
2 • La Chiesa di Santa Maria dell'Annunciazione. Located at the highest point of town near Valle dell'Obito, the 800-year-old church was in a state of semi-abandonment for many years. 
But thanks to a recovery program led by mayor Danilo D'Ignazi and funded by the European Community, it has made a comeback. Among the uncovered treasures are frescoes of the Madonna of the Annunciation it is assumed paintings by an artist of the school of Dionisio Cappelli in 1400. Upon completion of the refurbishment, the church will be used as a multimedia room and for special events.
3 • Museo della Civiltà Contadina. Near San Nicola Church is the Museum of Peasant Civilization. Over the years, area farmers donated typical tools from their work. They include crucifixes used in village processions and remains from World War I such as commendations and soldiers' helmets.
Il Belvedere della Rocca
At Paganico's highest point is a breathtaking view of Lake Turano and the Obito Gorge and is the highlight, the must see, in town. The belvedere's balcony is made of stone and Corten metal and designed to represent objects of the peasant culture.
Before the town refurbished the belvedere, locals used the space to throw objects they no longer needed. Among the decorations is Serpente Regulo or King Snake, an object revered by the peasant population. According to legend, the snake could paralyze people with a single gaze.
In reality, you can sometimes see eagles flying overhead.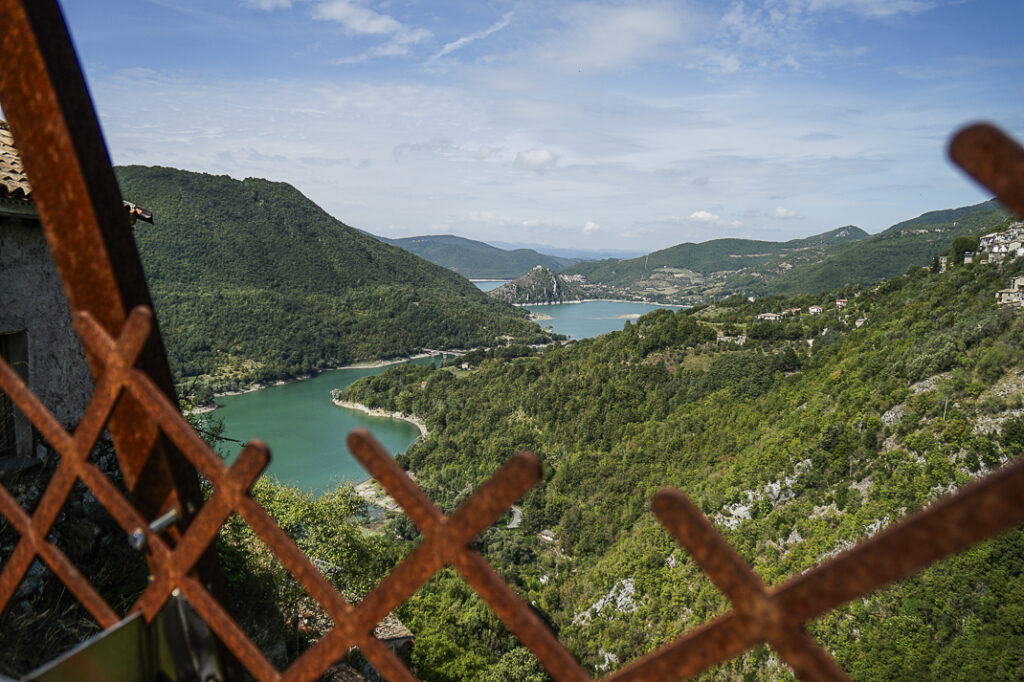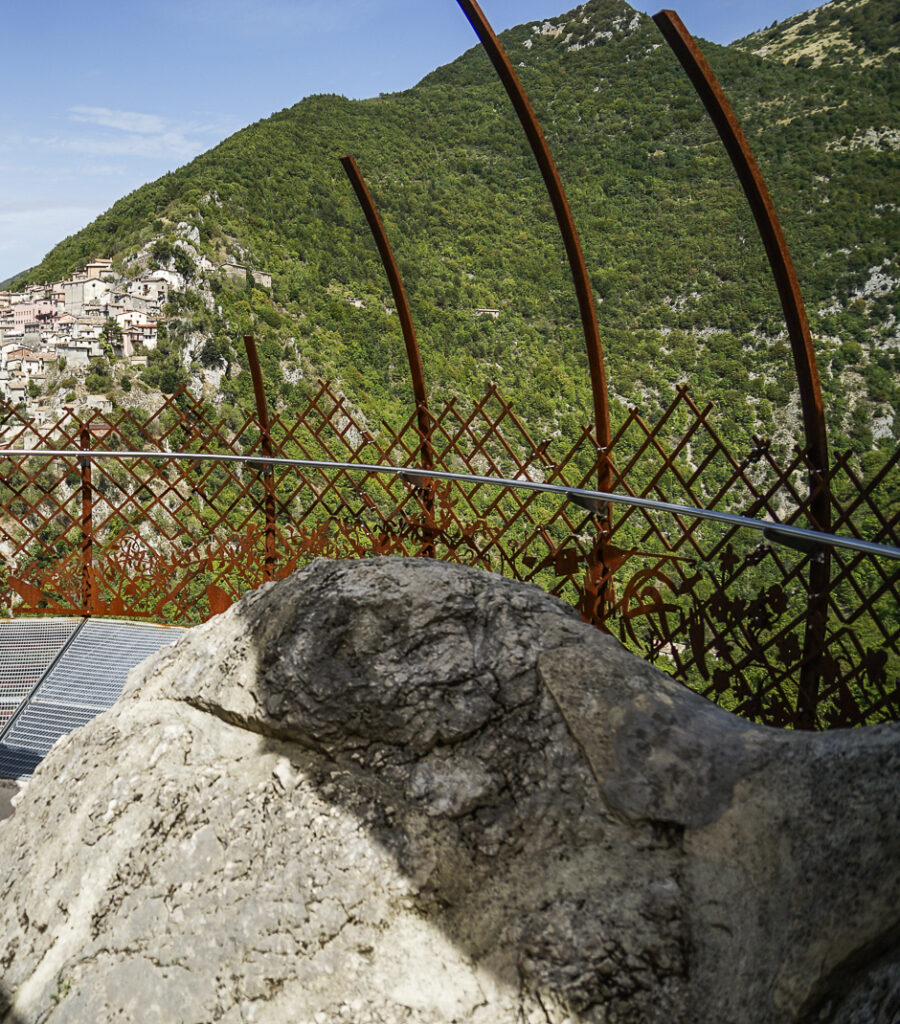 48,4 miles (78 kilometers) northeast of Rome.
Trains leave from Rome's Termini station for Carsoli then take a Cotral bus to Paganico.
The 23-minute trip is €2.
By car, take Roma autostrada A24 toward L'Aquila and exit at Carsoli Oricola.
Then take SP34 to Paganico.
Autostrada €13.78
Comune di Paganico Sabino
, Via di San Giorgio 1, Paganico Sabino, 39-
0765-723032
In the center of Paganico you will find
an organic egg production farm.
Try them. They are very fresh and delicious.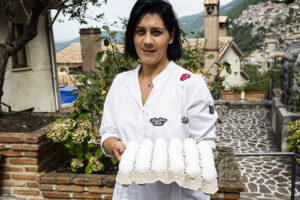 Bonanni Farm, Via Roma 27 – Paganico Sabino (RI)
tel. 39 335 825 7916