Grottaferrata, A hermit's legacy is a little-known gem
Savvy travelers who like to get out of Rome for a day often hop a quick train ride south to Frascati. It's understandable. Frascati (pop. 22,000) is one of the cute Castelli Romani towns tucked into the Alban Hills and known for its crisp white wine and yummy porchetta.
But if you want to take another step and really get off the beaten path, go just a couple miles farther to Grottaferrata. This town of about 20,000 gets few tourists and has such an authentic Italian feel to it you think you stepped into a Fellini film.
Its points of interest include an 11th century abbey with a terrific view of Rome, catacombs dating back to the 2nd century and a historical center with great places to drink wine and watch small-town Italy up close and personal.
1 • Abbey of Santa Maria di Grottaferrata. It was founded way back in 1004 by St. Nilus the Younger, a fascinating man who left a married life for God after an illness led him to conversion.
Commonly known as San Nilo, the abbey dominates the landscape with its castle-like turrets on the surrounding walls and a six-story guard tower. Wednesday, when we visited, was All Saints Day, a national holiday in which Italians honor martyrs throughout history.
As we approached the church, we could hear singing billowing out from a loudspeaker. Inside about a dozen people attended mass. Passing through the original door, we could see mosaics displaying the 12 Apostles and angels flanking a mosaic of the Virgin Mary and Child above the altar.
The surrounding walls of the abbey grounds have slits where you can see the countryside. Inside is also a library and museum.
Info: Corso del Popolo 128, 39-06-945-9309, https://www.abbaziasannilo.org/, segreteria@abbaziasannilo.org, 9 a.m.-noon, 3:30-7 p.m. Museum 10 a.m.-6 p.m. Friday-Saturday, first Sunday of every month, €5, library 8:30 a.m.-2 p.m. Monday-Friday, free.
2 • Catacombs ad Decimum. Rome has more famous catacombs but Grottaferrata has catacombs with more than 1,000 tombs.
They were used from the 2nd-5th century AD but weren't discovered until 1905 when the land above it collapsed under a plough working on a vineyard. The catacombs, on the outskirts of Grottaferrata as you approach from Rome, stretch for 250 meters. The marble slabs have epigraphs and graffiti.
Humidity and time have worn off many images. But you can still see some messages such as one reading, "To my dearest brother Marciano. Ilaro made peace."
Info: Via Anagnina 4, 39-348-406-6708, https://visit.galmartellotta.it/catacomba-ad-decimum/, 10:30 a.m.-12:30 p.m. Sunday, free. Call for appointment.
3 . Piazza Cavour. We don't normally recommend piazzas. Every town has one. But Grottaferrata's is especially nice. Located on the main drag of Corso del Popolo, it has numerous tables where locals gather to read the paper, talk and drink coffee or wine from the plethora of bars ringing the piazza.
A big fountain gurgles in the middle. In Pasta all'Uovo, a pasta shop dating back to 1950, I saw 11 different kinds of fresh, homemade ravioli filled with everything from porchetta to cacio e pepe to melanzane. I bought some filled with bufala mozzarella for only €2.50.
Later, while Marina attended mass in the abbey, I sat at one of Bar Cavour's outside tables and drank a local Rasa di Marmorata red wine for only €5 a glass.
St. Nilus the Younger
Inside San Nilo's entrance is a statue of the town's favorite son, St. Nilus the Younger, bearded and looking pious and serious.
Born to a Greek family in Calabria, the toe of Italy's boot, St. Nilus was married and had a child. But when serious illness led him to devoting himself to God, he became a hermit.
Still, he became known for his theological teachings and his virtues and soon developed a following. He traveled around Italy building and restoring monasteries. He is best known for the Catholic Greek abbey he built in Grottaferrata where it has been in continuous use for 1,019 years. It was built on the site of a villa owned by Cicero, one of Ancient Rome's most famous writers.
Nilus spent his later years at Sant'Agata monastery in nearby Tusculum where he died in 1005.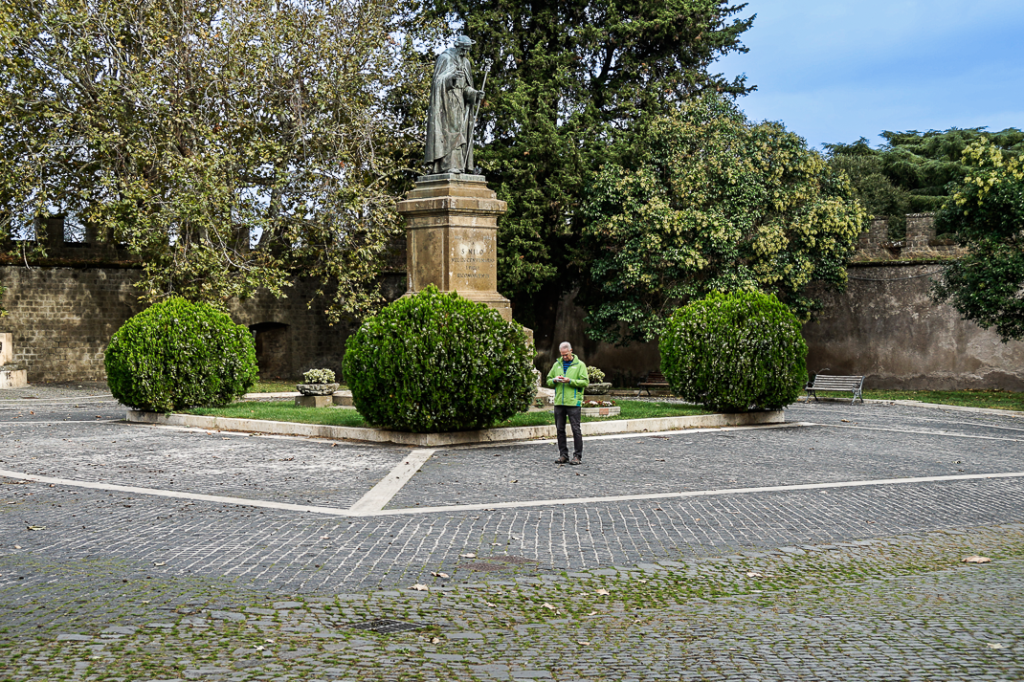 12 miles (20 kilometers) southeast of Rome.
Trains leave every hour from Rome's Termini station. The hour-long trip is €3-7.