Marino: Where wine pours like water (seriously)
Marino is another in the long string of towns in Castelli Romani southeast of Rome that gets little attention. It's a lovely place to spend a day. Nestled in the Alban Hills, its narrow, cobblestone streets climb hills to various lively piazzas.
The town hall is a 16th century palace and its Basilica of San Barnaba is one of the great examples of Baroque architecture in Lazio. But Marino gets attention at least one day a year. On the first Sunday of every October is the Sagra dell'Uva di Marino, Marino's wine festival in which the town is draped with grapes and floods the streets with its local white wine. They even have the wine flowing from the town's fountains. Come with a thirst; leave with a designated driver.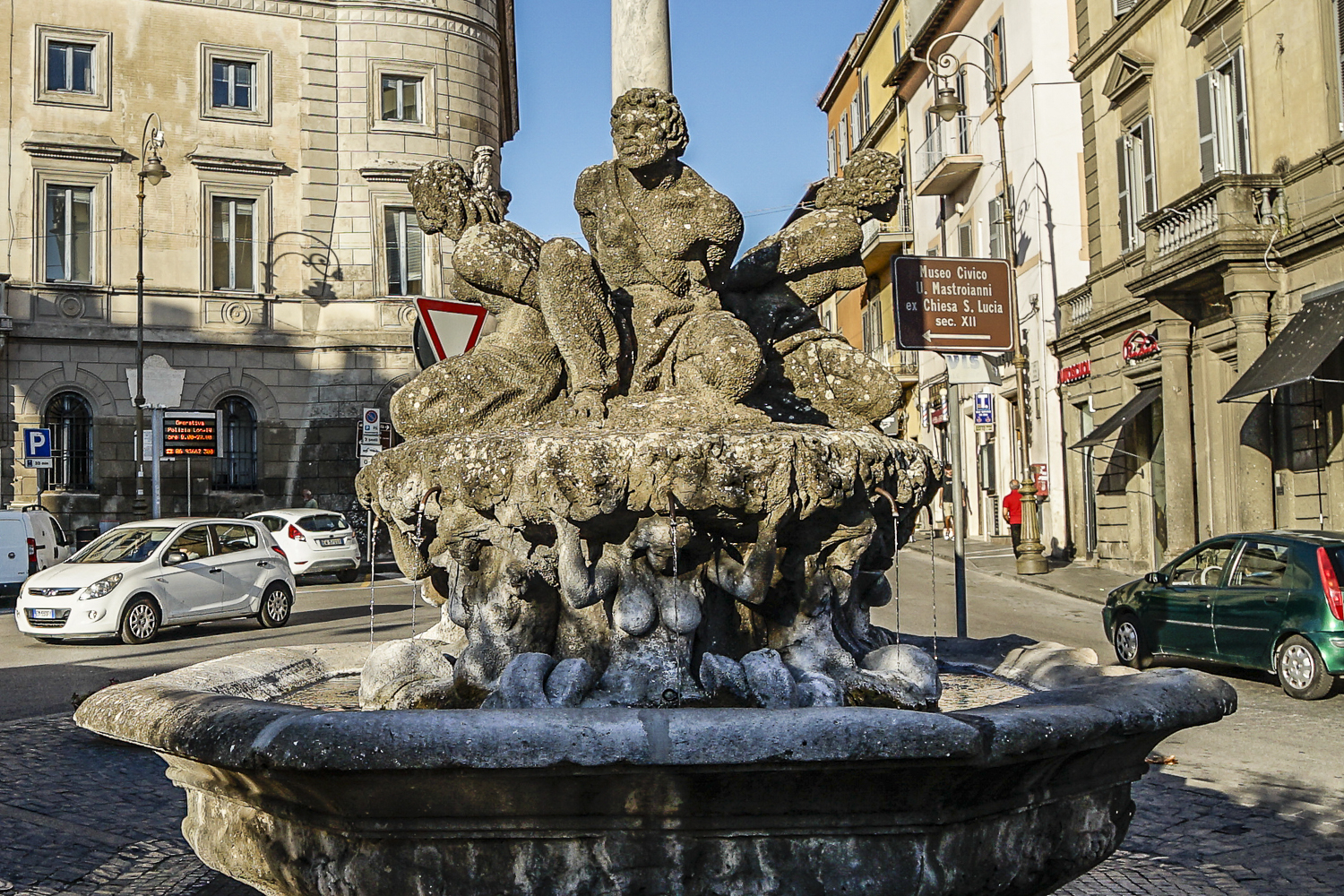 1 • Basilica di San Barnaba. If you've spent time in Rome, the lightly adorned inside won't awe you. However, the brass statue, in scale, of Jesus riding to Jerusalem on a donkey, made by Marino artist Paulino Petrucci, is an amusing oddity.
More interesting is how San Barnaba got its name. On June 11, 1615, a hailstorm devastated Marino's crops. Oddly, the same happened the next year – on June 11. Then it happened again on June 11, 1617. Fed up and, obviously, desperate, the townfolk wrote Cardinal Francesco Sforza and asked if they could make Saint Barnaba their patron saint.
His feast day falls on June 11. On June 4, 1619, Cardinal Sforza agreed. Built from 1640-1642, the Baroque-style church is massive. Above the front door are two six-foot high statues of Saint Barnaba and Saint Lucia, the fired patron saint who couldn't stop the hail. The piazza in front also provides terrific views of the Lazio countryside.
Info: Corso Trieste 7, 39-06-938-7049, https://www.parrocchiasanbarnabamarino.it/, sanbarnaba.marino@parrocchiealbano.it
2 • Museo di Vino. Marino's rich wine tradition is illustrated in this unique museum. Marco Fabi displays ancient winemaking equipment of his own and items he has collected over the years.
They include a sulfur machine, a demijohn and old wine barrels. It's located in the cellar off a narrow cobblestone road that has connected Rome to Naples since the Middle Ages. Guided tours and wine tastings can be arranged. By appointment only.
Info: Via Posta Vecchia, 39-328-458-9142, https://www.museodelvinodimarino.it/contattaci/,
10:30 a.m.-6 p.m. Saturday-Sunday.
3 • Public Garden. If you ranked public gardens in Italy, Marino's wouldn't be anywhere near the list. Located at the bottom of the street that connects to the city center, it's a bit scruffy. The big fountain hasn't been maintained. Many ferns are ragged. But it is covered with trees including pine and chestnut.
Marino sits at 1,200 feet so if you're escaping Rome's heat, the Public Garden's massive shade is a good place to cool off with a picnic lunch. You can also watch some bad pickup basketball at the downsized court.
Sagra dell'uva di Marino
This town knows how to throw a party. You've been to wine bars around Italy. You've never been to one like Marino has every first Sunday in October.
Since 1925, the city drapes the streets with clusters of grapes and for one hour, replaces the water pouring from the town fountains with its trademark white Marino wine. Five thousand liters of wine pour into waiting cups distributed free to many of the 100,000 who come every year. It was started by local poet Leone Ciprelli and it has turned into the year's biggest party, complete with food stalls selling olives, mussels, clams, sweets and porchetta, the sizzling suckling pork famous in this area.
Locals distribute grapes to visitors. One of the fountains is the Fountain of the Four Moors. Located on Piazza Giacomo Matteotti, the fountain has a definite racist bent. Built in 1642, it commemorates Marcantonio Colonna's participation of the Battle of Lepanto in 1571 which led to the defeat of the Muslim Ottomans.
The statue is of four men, two with definite African features, kneeling with their hands tied behind their backs. But every first Sunday in October, the focus will be on the statue's eight spigots spitting out fine white wine.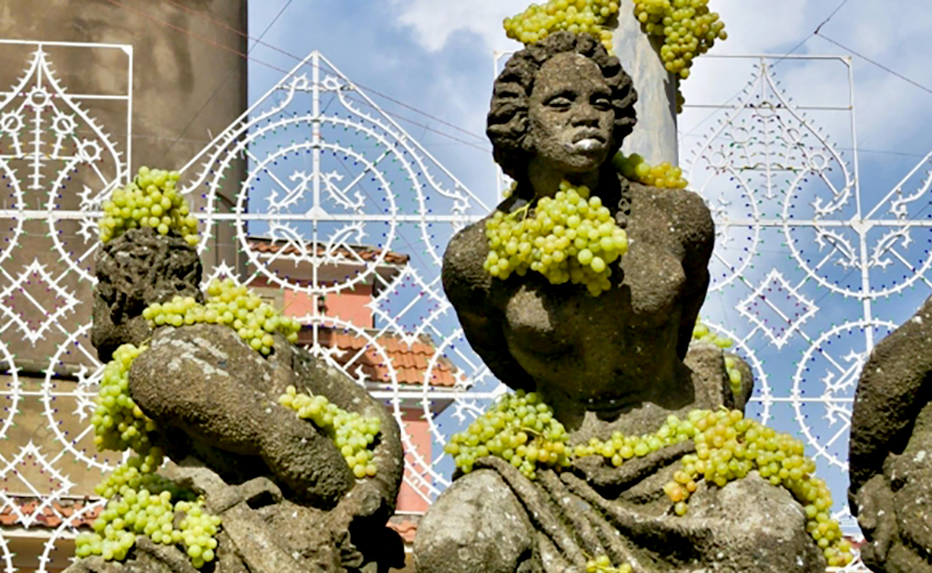 Cacio e Pepe, Via del Teatro 1, 39-06-938-5726, 10 a.m.-3 p.m., 6-11 p.m. Like its title, its specialty is cacio e pepe, the classic Roman dish that means "cheese and pepper" in Roman dialect.
The 10-year-old restaurant is tastefully decorated with potted plants and old black and white photographs. It's so homey, owner Giovanni comes to your table and tells you what he has. Three of us had an excellent dinner for €47, including, of course, Marino wine.