Anguillara Sabazia: Everybody Loves Anguillara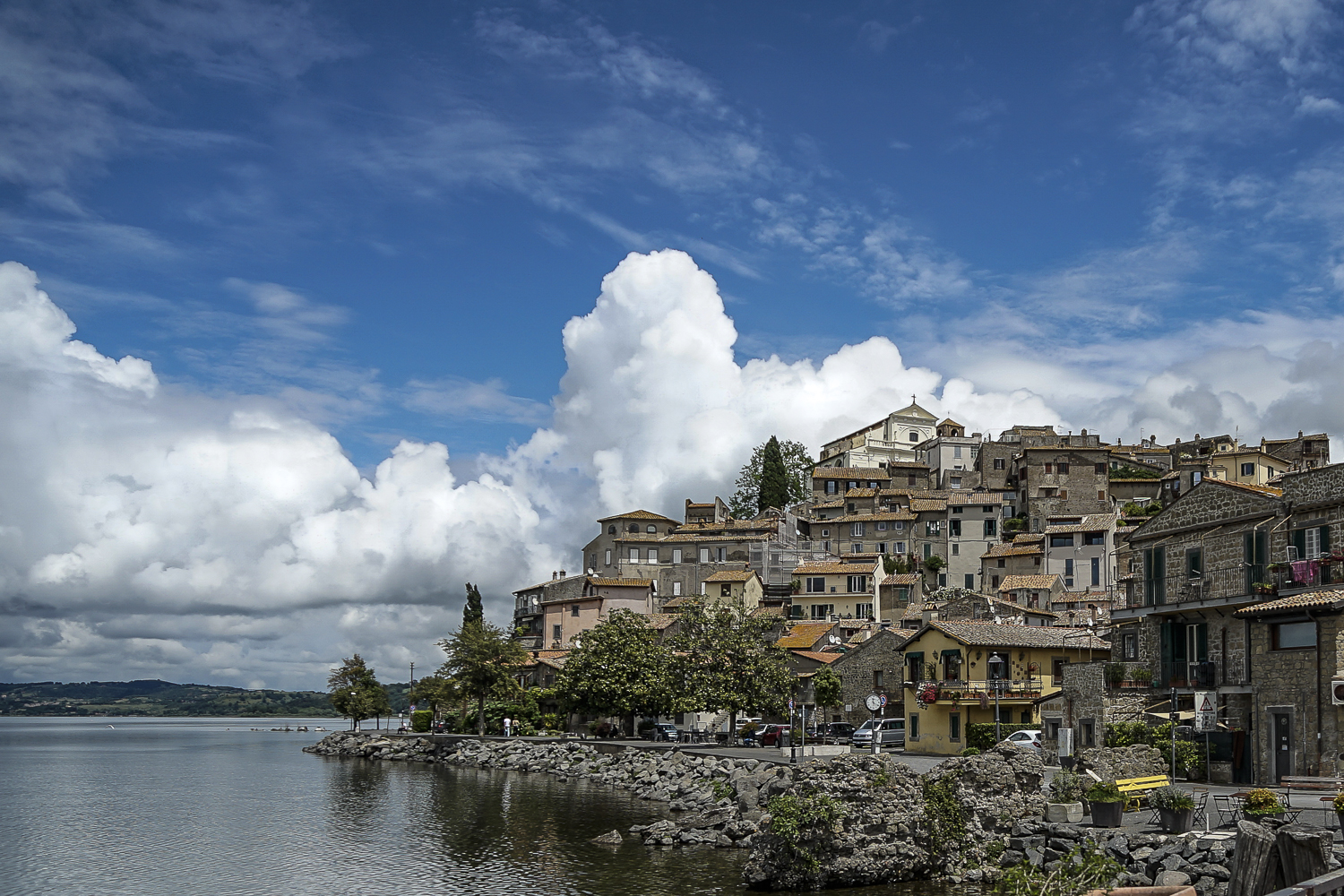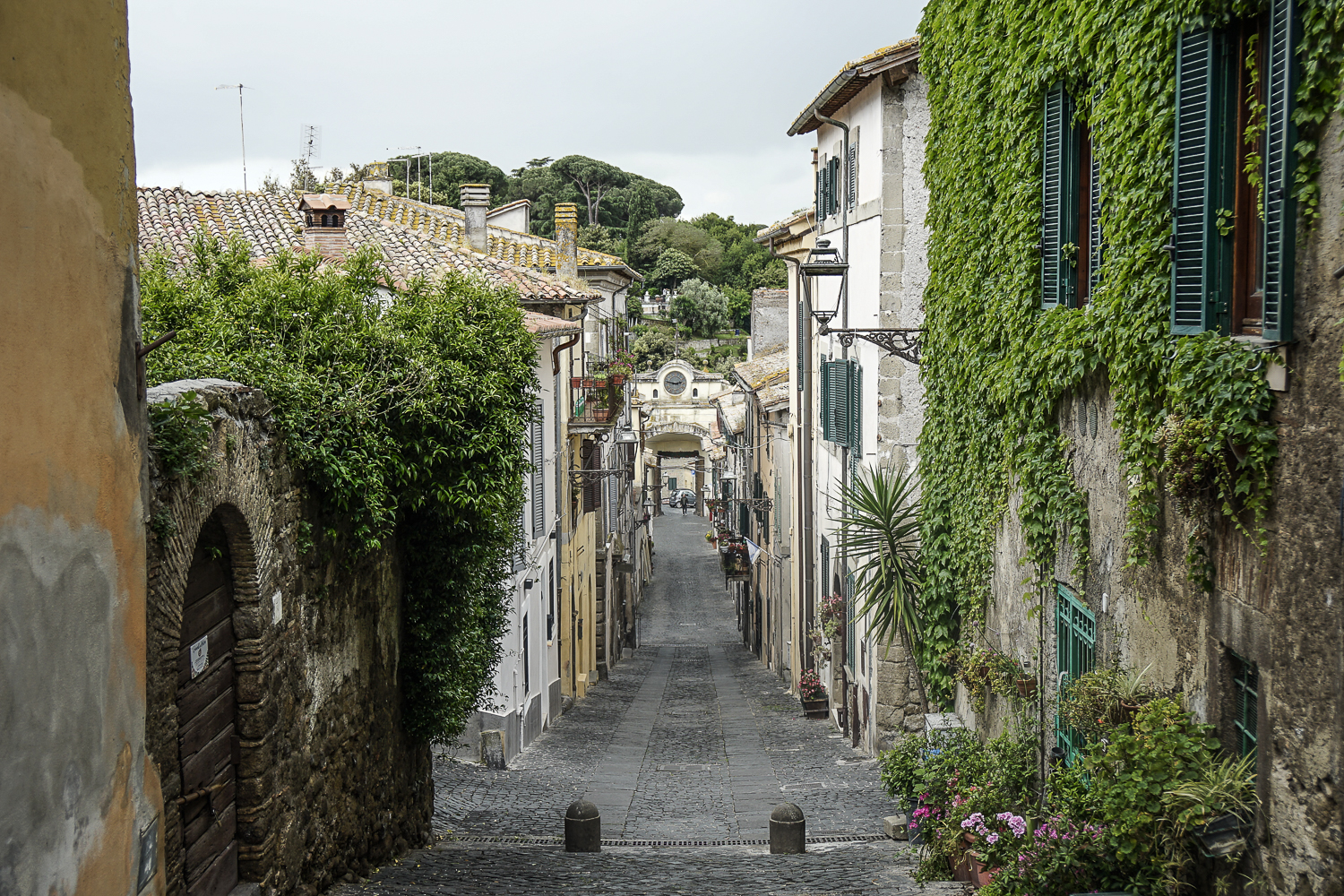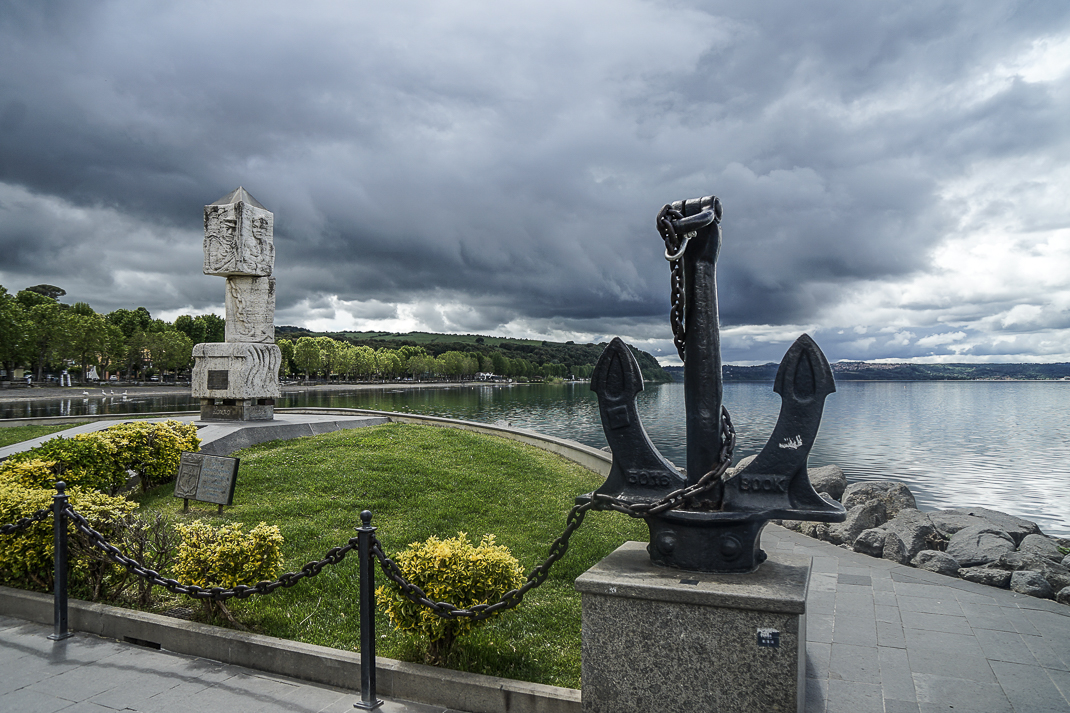 I never liked the hit American sitcom "Everybody Loves Raymond" even though it was about a sportswriter and I was a sportswriter for 40 years. But I did like one aspect of the show. It chose the little Lazio lake town of Anguillara Sabazia for two of its episodes https://www.youtube.com/watch?v=kzcB6O0wtvI.
Located just 16 miles (30 kilometers) northwest of Rome on Lake Bracciano, Anguillara is small-town Italy right out of central casting with a gorgeous lake right next to it.
Walk the narrow, cobblestone alleys of the medieval center and around every corner is another beautiful view of Lake Bracciano.
The lakefront is a spotless, wide swath lined with potted plants and benches for gazing at the calm water. With only 19,000 people, it's smaller than the town of Bracciano https://www.travelazio.it/bracciano/ six miles to the west. It also has a better lakefront. Beat the crowds and go in spring when we had the town nearly to ourselves Wednesday.
1 • I Giardini del Torrione: Climb to the top of the town and find the 15th century tower. It consists of four levels connected by steep stairs and was used as a defense during the Renaissance. The site has terrific views of the lake, particularly in the gardens in back. Beautiful trees provide shade on warm summer days and red flowers line the rails. It's such a peaceful site that evolved from such a violent past. It's a perfect spot for a wedding. In fact, we're attending one there Saturday.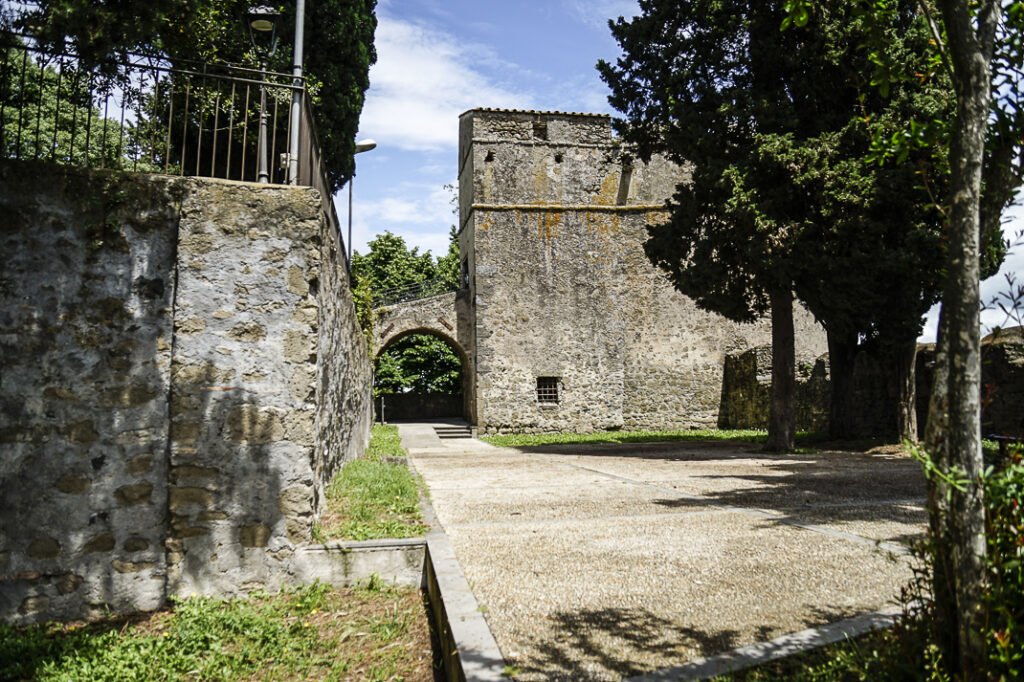 2 • Lake Bracciano: While Lazio's beaches are packed in summer, Lake Bracciano isn't so much, particularly at Anguillara. The volcanic lake is worth a visit. It's the eighth largest lake in Italy. Originated during tectonic activity 40,000-600,000 years ago, it supplies Rome with its drinking water. In July it reaches 77 degrees (25 centigrade) and boats transport people to Bracciano and the nearby town of Trevignano. But you don't need to get wet. Take a book and sit at one of the many lakeside benches with flower boxes everywhere. Or take some bread and feed the geese floating in the lake.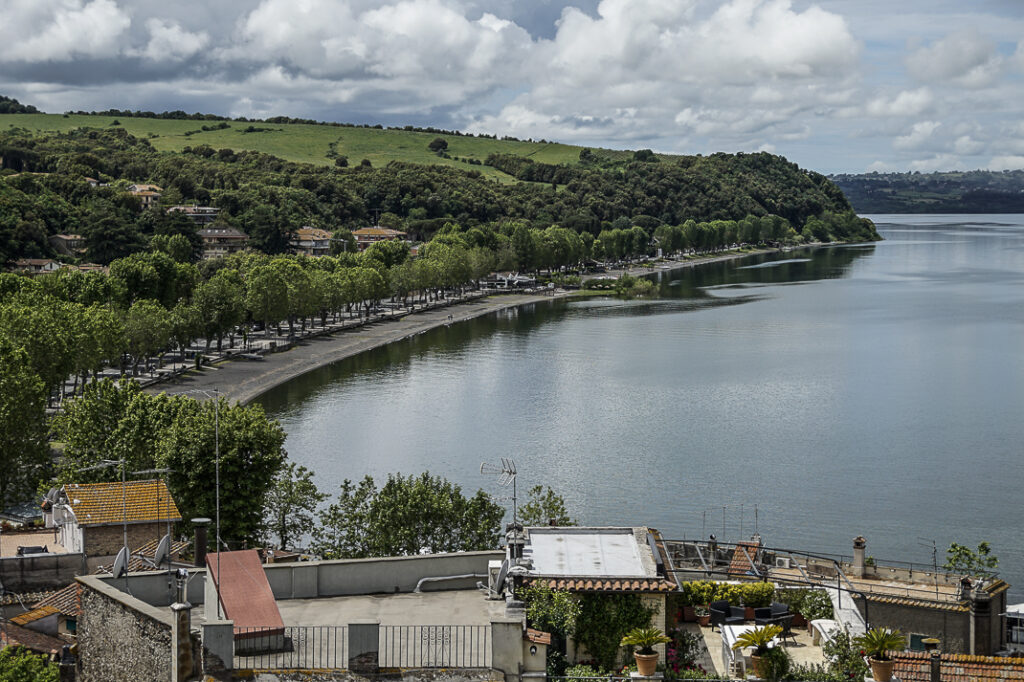 3 • Chiesa della Madonna delle Grazie: Just go for the view. Located at the top of Anguillar's historical center, the church's entrance is on a long square right above the lake. It's this gorgeous lake view where they filmed a beautiful scene in "Everybody Loves Raymond." The church was built in 1574 and features Neoclassical works by Ignazio Jacometti and Girolamo Muziano. It also features an 18th century organ. It has been renovated numerous times, the last time in 1888.
Hiking from Anguillara
The area around Lake Bracciano is lined with hiking trails. From Anguillara, one of the most popular trails, according to AllTrails https://www.alltrails.com/trail/italy/lazio/anguillara-sabazia-lago-di-martignano, is the Anguillara-Lake Martignano loop.
It's about five miles (9 kilometers) with a 193-meter elevation gain. It takes about 2 hours and 15 minutes. A similar hike is Monte Maiale-Vago di Martignano. It starts from the parking lot near Monte Maiale a few miles southeast of Anguillara. It ends at the beach of Martignano 2.5 miles (4.5 kilometers) from Anguillara. An extreme hike from Komoot https://www.komoot.com/guide/623257/hiking-around-anguillara-sabazia is View of Two Lakes which is a 7.3-mile loop (13 kilometers) with a 675-meter elevation gain or even harder, the Vista di Lago Martignano, a 12.5-mile loop (20 K) that climbs more than 1,000 meters and takes 5 hours, 30 minutes. Feeling less ambitious? Just walk from Anguillara to the town of Bracciano. It takes less than a half hour to walk the six miles (10.7 K).
You walk along the lake until you see Bracciano's castle on your left. Then climb the short hill to town.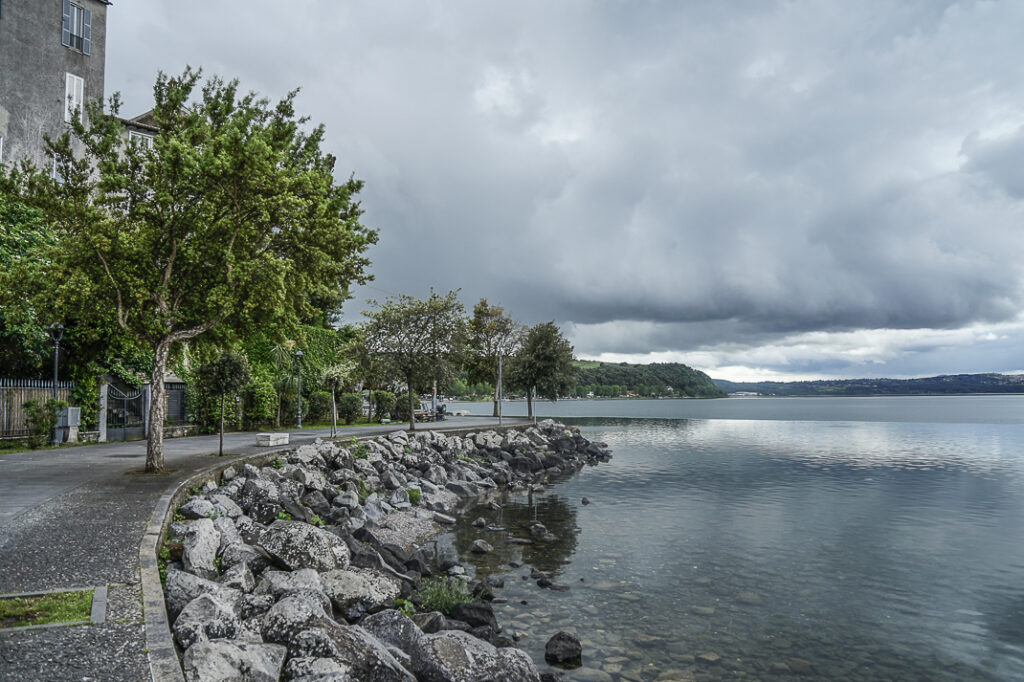 16 miles (30 kilometers) northwest of Rome.
How to get there: Trains leave every 30 minutes from Rome's Termini station.
The 54-minute journey is € 2.60.
Pescheria e Friggitoria Toto, Piazza del Molo 4, 39-06-996-07251/39-338-868-4503, 8:30 a.m.-7:30 p.m. Tuesday-Thursday, Sunday, 8:30 a.m.-11 p.m. Friday-Saturday.
On a beautiful, quiet setting right on the lake, its name is left over from the fish market that has been at the same spot since 1950. The restaurant in front, with both outside and indoor seating, started six years ago. It serves fresh seafood ranging from a mixed platter to a bucket of mussels starting at € 9. Our lunch of two appetizers, two entries and a half bottle of wine was only € 44.