Rocca di Papa: La Dolce Vita is at 2,230 feet
In 1960 after Anita Ekberg jumped in Trevi Fountain during that iconic scene in "La Dolce Vita," she could've walked on that same water. Instead, the superstar Swedish actress chose to live in a small town atop a mountain high above the Lazio countryside. From 1964 until her death in 2015, she lived in Rocca di Papa, a town of 17,000 25 miles southeast of Rome.
Part of the chain of towns in the Alban Hills called Castelli Romani, Rocca di Papa has more appeal than just being a long way from paparazzi. At 2,230 feet (680 meters), it offers terrific views of the Lazio countryside. Climb the windy, narrow roads to the top of the town and gaze down from the Papal Fortress, medieval ruins that once housed popes.
A short drive will lead you to a convent with one of Lazio's best views of Lake Albano. And do you like chestnuts? Come to town next week. The annual Roast Chestnut Festival will be Oct. 13-15.
1 • Papal Fortress. For 400 years this fortress helped defend the Holy Roman Empire. Pope Eugene III (1145-1153) had it built in the 12th century and it served its purpose until Pope Paul III (1534-49) demolished it in the 16th century.
It became a quarry and later abandoned until relatively recently when archaeologists spent four years uncovering ruins. It was inaugurated in 2011 and can be found at the top of town. The view of the landscape below makes the steep climb through town well worth it.
Info: Via dell'Osservatorio, 39-06-942-8611, 10 a.m-sunset.
Currently closed indefinitely for refurbishing.
2 • Convento di Santa Maria ad Nives di Palazzolo. Located about a five-minute drive outside Rocca di Papa, this convent offers a spectacular view of Lake Albano.
It was built in the 11th century over the remains of a Roman mausoleum and was originally home to the Minor Observant Friars. The Baroque convent is next to a church that is a mix of Gothic and Baroque architecture. It is dedicated to Madonna della Neve, and has been a summer residence for seminarians of the Venerable English College since 1920.
Info: Via dei Laghi, Kilometer 10,800, 39-06-94-74-9178. 
3 • Franco Fuligni Astronomical Observatory. In the hamlet of Vivaro on the outskirts of town, this observatory has been around since 2001 and is one of the main science centers in Lazio.
The managing Associazione Tuscolana di Astronomia organizes tours, astronomical observations and educational opportunities for school outings. Last month the observatory hosted the European Researchers' Night, the largest scientific communication event in Europe.
Info: Via Lazio 14, Rocca di Papa, 39-06-4443-6469, https://lnx.ataonweb.it/wp/, segretaria@ataonweb.it.
Sagra delle Castagne
You don't need to wait until Christmas to enjoy chestnuts over an open fire. Come to Rocca di Papa Oct. 13-15. It will host the 43rd annual Roast Chestnut Festival. Rocca di Papa is one the chestnut capitals in Europe. They grow over nearly 500 acres (200 hectares) in the area, making it the town's leading product.
The festival highlights rocchicianella, a chestnut variety that is sweeter and smaller than the classic chestnut. The town's historical center will have numerous food stands where visitors can try  chestnut-based delicacies. Wine from the Castelli Romani region will flow for three days along with live music.
Info: https://www.ilturista.info/blog/13261-La_Sagra_delle_Castagne_a_Rocca_di_Papa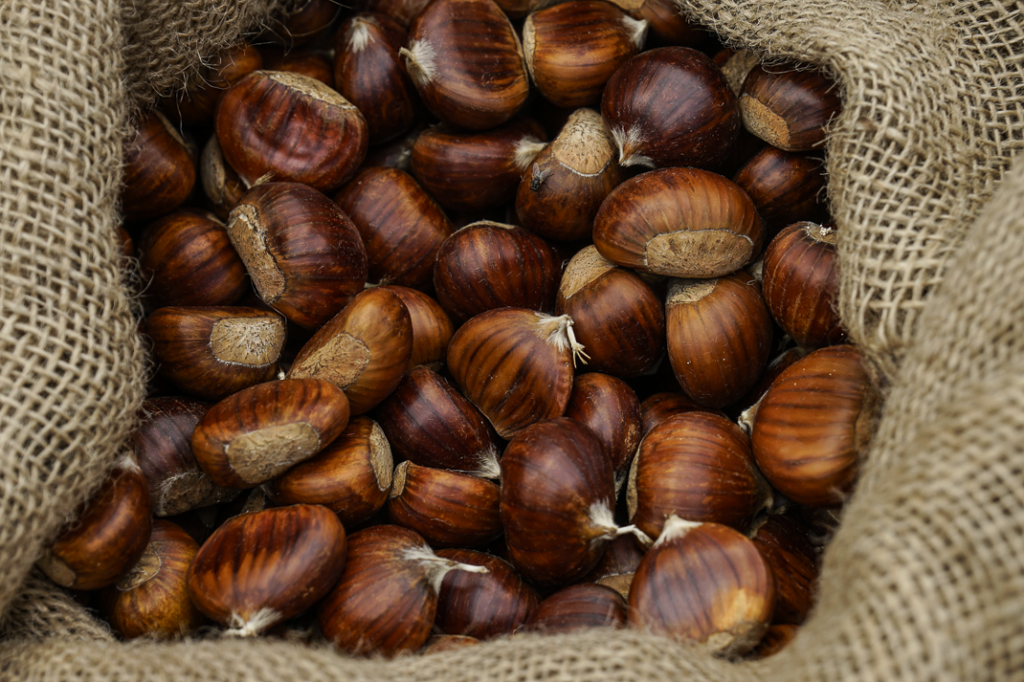 25 miles southeast of Rome.
The No. 4 bus leaves from Rome's Vivaro
Piazza Prenestina near Prenestina Station
at 9:40 a.m. and 1:40 p.m. daily.
The journey takes 20 minutes.
Al Cantinone, Piazza Garibaldi, 39-06-949-9990, 10 a.m.-3:30 p.m., 7-11 p.m., Wednesday-Monday. On a quiet piazza with great views, it serves a variety of fresh, homemade pasta dishes along with lean steaks. Mains from €12-€23.
https://www.facebook.com/daleoelaura/