Fregene: A Roman beach town for Romans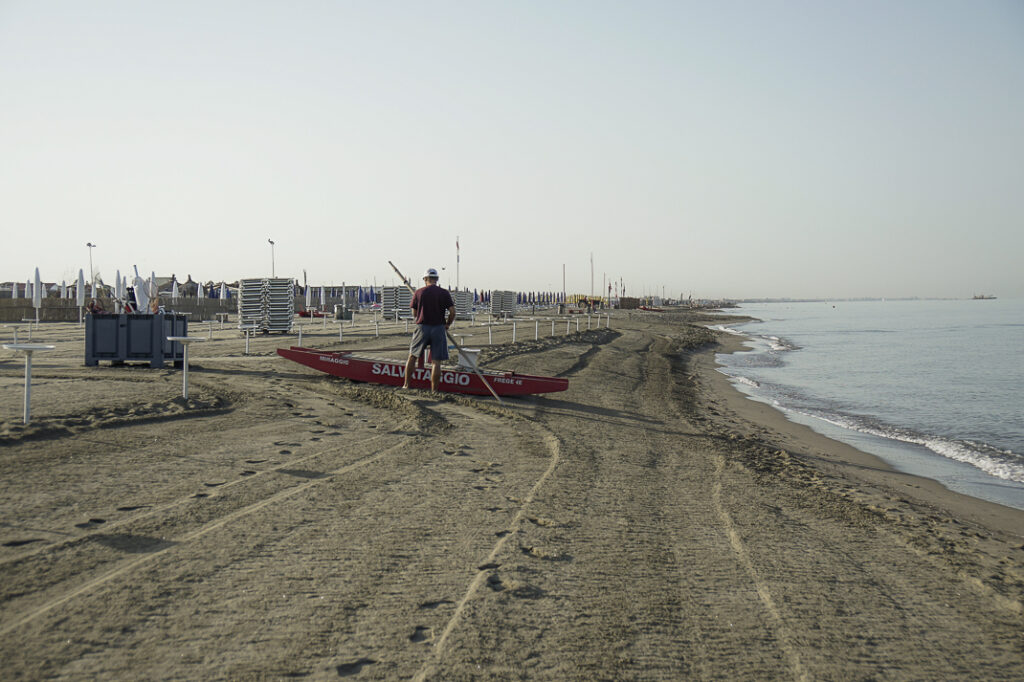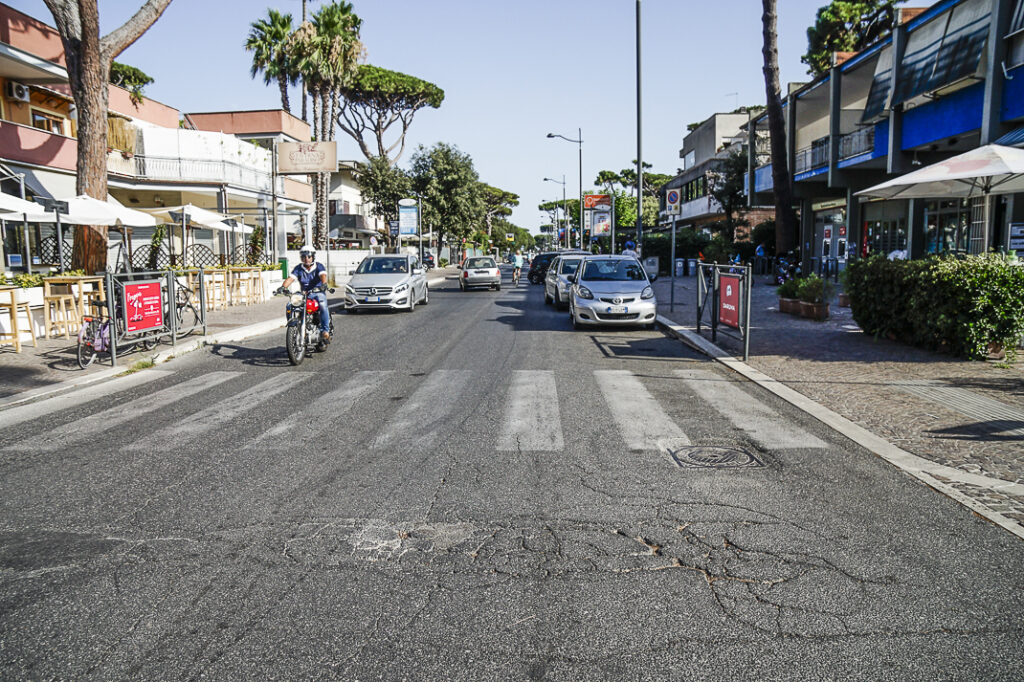 Italy is famous for its beaches. It should with 4,723 miles of coastline. Stentino in Sardinia. Taormina in Sicily. Lama Monachile in Puglia. They're all famous around Italy and beyond. 
But Rome has a perfectly good beach just a 30-minute drive away which Marina and I have used for years. Marina has been going since the 1980s when Fregene was one of the hottest night spots in metro Rome. In the mid-20th century, director Federico Fellini had a villa here. Writer Pier Paolo Pasolini and actor Marcello Mastroianni were frequent visitors. 
Fregene (pop. 6,445), located just eight miles (14 kilometers) north of Fiumicino Airport, has a long, swath of fine sand with nary a pebble underfoot. You won't find a string of palm trees you'll see elsewhere in Italy. What you'll find is a clean and calm Tyrrhenian Sea, great seafood and solitude (if you go early). 
We arrive at about 9 a.m. before anyone else, park at Il Capanno dei Pescatori, a seafood restaurant that allows you to park if you buy lunch from them. The town has a true beach vibe all its own with evidence of a more glittery past. But Fregene's present is still pretty good.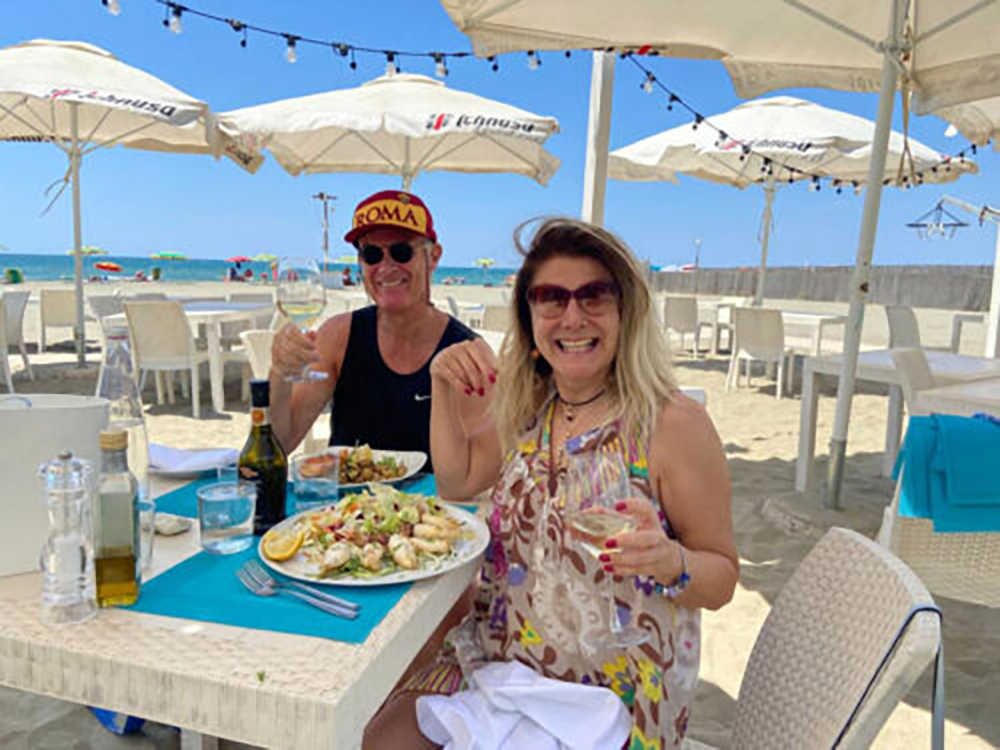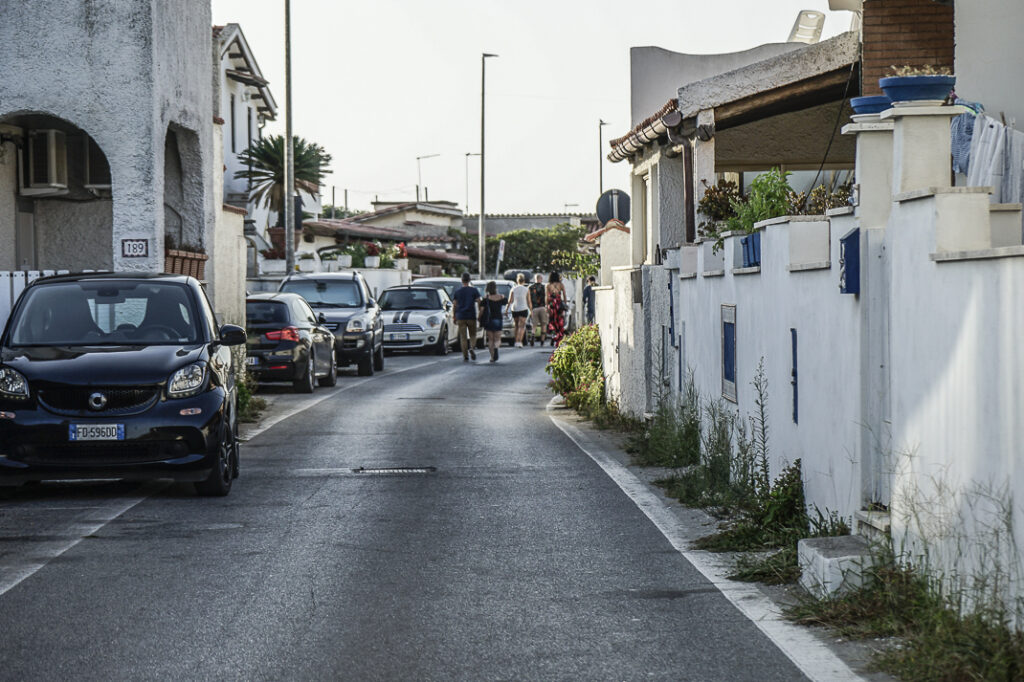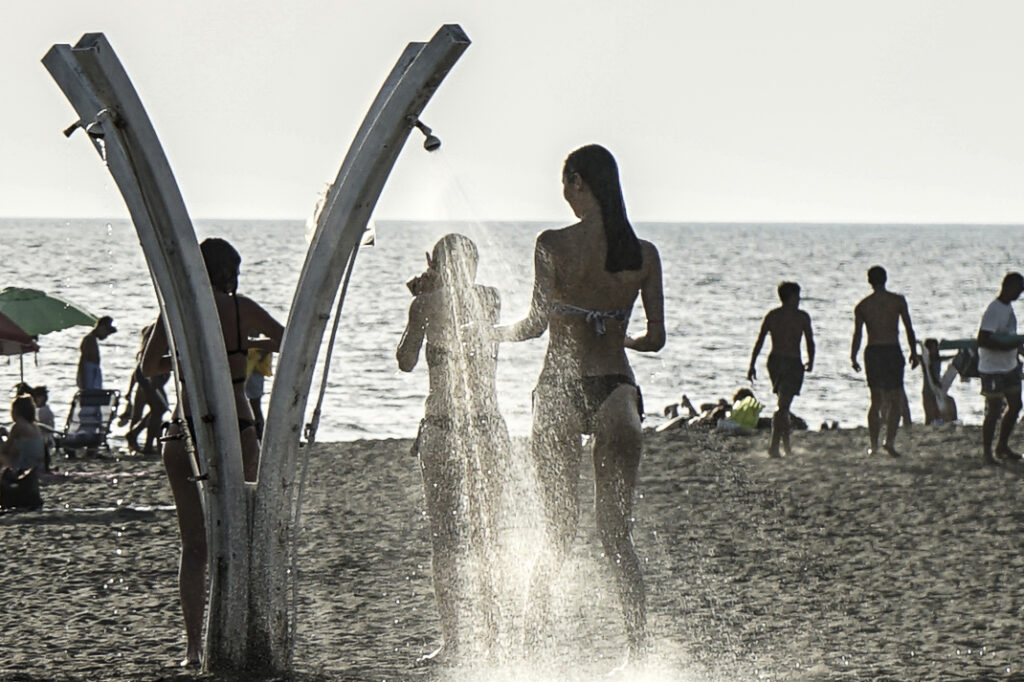 1 • The beach: Some of the beaches are private but cheap. The Pescatori charges only €7 for a lounge chair and umbrella which a beach boy sets up for you when you pay at the restaurant counter.
The beach rarely gets crowded. The public beach is farther north and gets packed by late morning.
The sea here is safe for non swimmers. You must swim a long ways to get over your head. Parking in Fregene is a problem. That's another advantage of going to a private beach.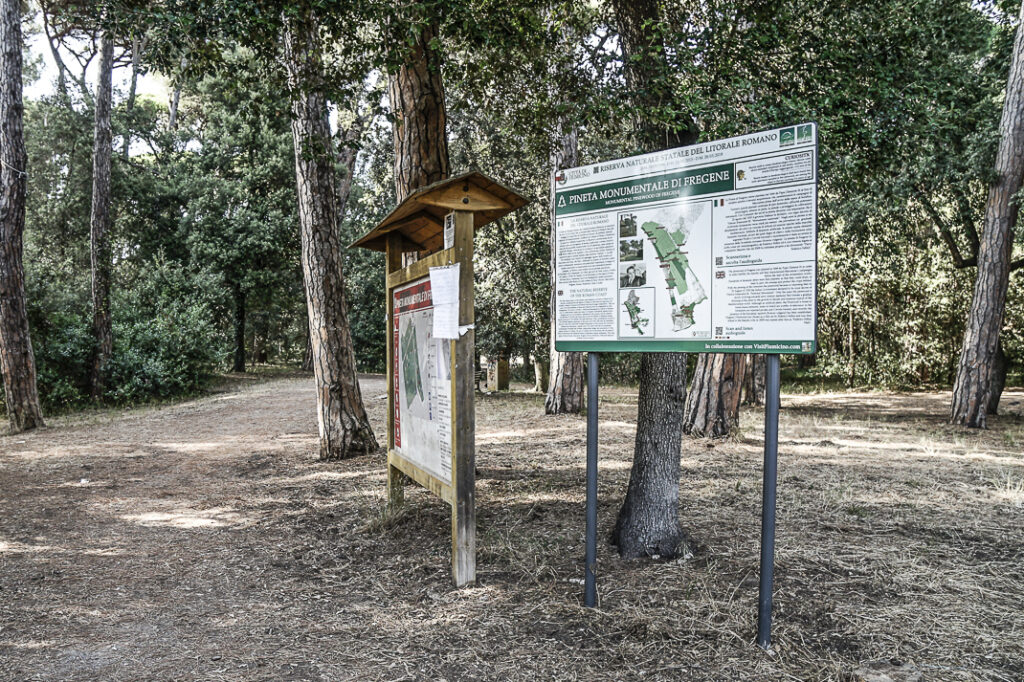 2 • Pine forest: If you want to get away from a crowded beach and get some exercise, take a stroll or jog through Fregene's pine forest. In the 1660s, Pope Clement IX planted pine trees in the  middle of town to help soak up the muck from the nearby mouth of the Tiber. Today the forest is crisscrossed with dirt jogging paths, all in the shade. Take a walk and you'll inevitably feel a cool breeze coming off the sea.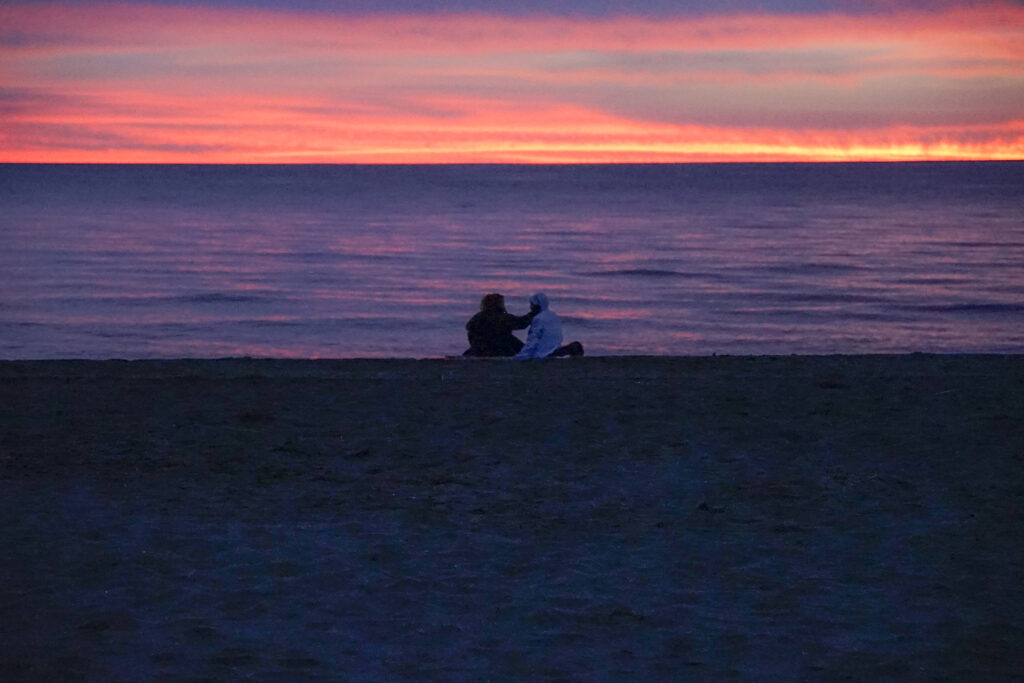 3 • Watch the sunset. In early evening, many visitors and locals alike gather at Singita Miracle Beach, a sprawling beach bar. Order one of the designer cocktails, grab a table in the sand and watch the spectacular sunset. Remember, Fregene faces west. There are also showers nearby to wash off the sand if you're coming in from the sea. The cocktails are about €9 but the sunset is priceless.
Info: Singita Miracle Beach, Via Silvi Marina 223/a, 39-06-6196-4921, https://www.singita.it/, fregene@singita.it, 9 a.m.-10 p.m., breakfast 9 a.m.-noon.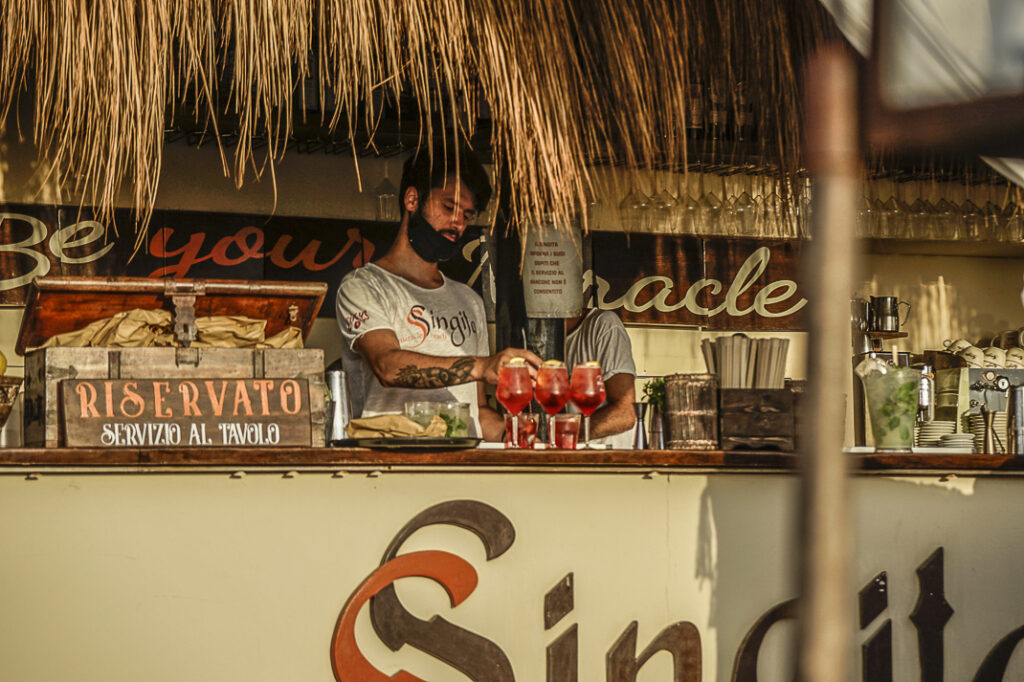 Thank Mussolini
Yes, his colossal career killer in befriending Adolf Hitler overshadowed the good things he did on the Lazio coastline. Since the days of the Roman Republic, the southern Lazio coastline was a mosquito-infested, malaria-riddled, soggy, randomly populated dump. Emperor Caesar Augustus built a canal to drain the marsh but when Rome fell the marsh returned. Victor Emmanuel, the first king of a united Italy, tried in the late 19th century but didn't finish.
When Mussolini took power in 1922, he became the first world leader to declare, "Drain the swamp." He went to Parliament with a plan that would build 10,700 miles of canals and trenches. He cleared scrub forest, dredged rivers, dyked river banks, filled holes and built pump stations. In 1932, Latina became the area's first beach community. By 1933, 2,000 families had settled in the area with many towns, including Fregene, to follow.
20 miles (34 kilometers) west of Rome.
How to get there: Trains leave hourly from Rome's Termini station. The 35-minute trip is €2-6 and goes to Maccarese-Fregene. Walk 330 meters to the bus stop at Maccarese Viale dei Tre Denari. It's 13 minutes to Via Porto Azzurro-Fregene and it's six blocks to the beach. It's easier to drive.
Il Capanno dei Pescatori, Via Silvi Marina 21, 39-06-6941-6497, 9 a.m-midnight.
Our favorite place to dine on the entire Lazio coast. Fresh seafood dishes and salads with shaded tables in the sand with views of the sea. Lunch for two with wine usually costs me €50-60.
Il Pioniere, Via Silvi Marina 281, 39-06-6656-4103, 10:30 a.m.-4 p.m., 7-11:30 p.m.
Little restaurant with outdoor seating off a quiet side street toward the beach.
Excellent sea bass dishes such as sea bass fillet in pistachio crust.
Hotel Il Miraggio, Viale Sestri Ponente 93, 39-06-6656-0659, https://www.hotelmiraggio.it/, closed Oct. 31-Feb. 28. Three-star hotel is 100 meters from beach. Only 23 years old and features big veranda and garden.  Offers transfers from airport, train station and Vatican.
Fregene Maccarese Pro Loco, Viale della Pineto di Fregene 110, Fregene, 39-06-665-60596, http://www.prolocofregene.com/, info@prolocofregene,com, 5-7 p.m. Monday, Wednesday,
10 a.m.-noon Friday-Saturday.