Manziana: A walk in the woods and an ancient geyser
We've written a lot about Lake Bracciano. We've chronicled the town of Bracciano and its iconic castle. We brought you Anguillara Sabazia where "Everybody Loves Raymond" filmed some scenes.
But if you go just past those two and away from the lake you'll find a lovely little town where the outskirts are the highlights. Manziana is a town of 7,700 people 25 miles (40 kilometers) northwest of Rome. Before you even enter the town, you can experience some of the best nature Lazio has to offer.
Take a leisurely hike through Bosco Macchia Grande then drive another 10 minutes to see a 600,000-year-old geyser in the middle of nowhere. If you don't bring a picnic lunch like we recommend, go into town and choose between a surprising list of top-notch restaurants. This isn't just getting away from Rome. It's getting away from Bracciano.
1 • Bosco Macchia Grande. This is a 1,433-acre forest three miles (five kilometers) from Bracciano and two kilometers southwest of Manziana.
During Ancient Rome, the forest reached all the way to the Sabatini and Cimini mountains. Today it has been cut back to the perfect size for a leisurely stroll or a picnic in the forest. It features four paths labeled Green, Yellow, Blue and Red which meander through the tall trees offering shade on a sunny day. The Blue path that cuts off from the main Yellow path into the interior was used in the films Pinocchio and Django.
We went on Sunday, the last day of Manziana's annual Chestnut Festival when the town was packed. We saw very few other people in the forest.
Info: The forest is on SP493 just before you enter the town of Manziana. Free.
Lazio Merlot
If you're an American and a wine lover, you probably saw Sideways, the 2004 film in which a frustrated writer and wine connoisseur played by Paul Giamatti takes his best friend, played by Thomas Haden Church, winery hopping in Santa Barbara before Church's wedding.
You probably loved Giamatti's famous rant about the wedding wine, "I am NOT drinking fucking Merlot!" He's right. Merlot stinks. In the U.S., a lot of it does. It's often the house wine of bad restaurants. But in Italy, Merlot rocks.
It's particularly good in Lazio where I had one of the best at Dal Sorcetto in Manziana. Yes, it was the house wine. It's labeled Ristorante dal Sorcetto.
But it was smooth, fruity and fresh. No headache. Actually, Lazio has a fine history of good Merlots. The Castelli Romani area, southeast of Rome, has a DOC (government approved quality) appellation and is excellent for producing Sangiovese, Cesanese, Montepulciano, Nero Buono and Merlot grapes.
The Etruscans, Rome's first founders, were the first to use the area's volcanic soil to produce wine and the Ancient Romans took the wine-making baton when they ruled.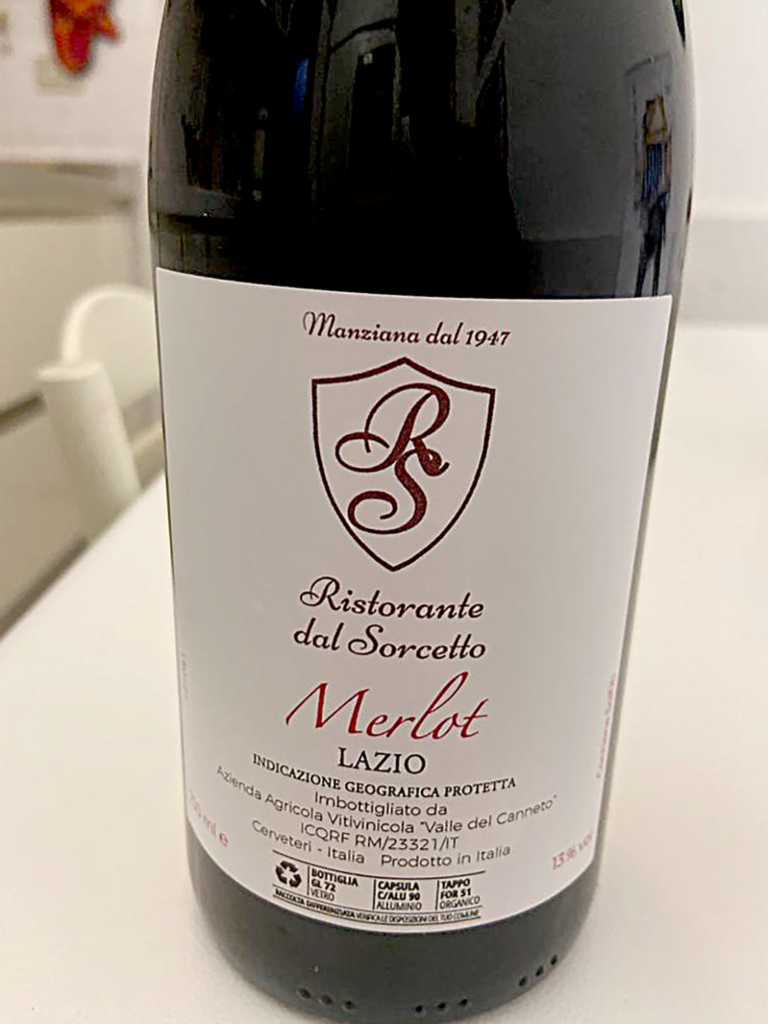 25 miles (40 kilometers) northwest of Rome.
Trains leave every hour from Rome's Ostiense Station.
The 1-hour, 12-minute ride is €7 round trip.
You'll need a car to go to the forest and caldera.
Associazione Turistica Loco di Manziana,
Piazza Firenze 9, 39-06-996-2191.
Dal Sorcetto, Via Civitavecchia 24,
39-06-9967-4505, 12:30-2:30 p.m., 7:30-10:45 p.m.
Lovely, classy restaurant in a residential area a 10-minute walk from the town center. Many dishes feature tartufo. It also has numerous steak selections.
Try the pappardelle al ragù bianco, wide, flat noodles in meat sauce.
Mains start from €8 for tagliolini in tomato sauce to €45 for Florentine steak.