Nemi: A strawberry shortcut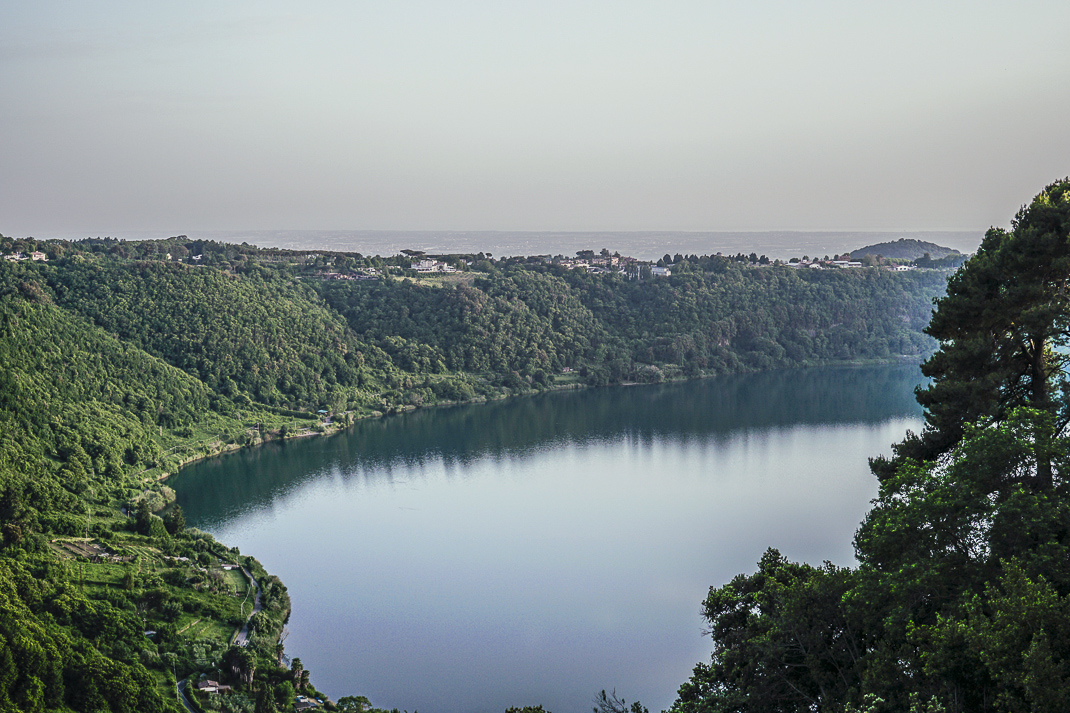 People come from all over the world to eat Rome's food. Pasta. Pizza. Tiramisu. How about trying the strawberries? Come to Nemi, a beautiful lakeside town high in the Alban Hills southeast of Rome. 
Nemi is part of Castelli Romani, a series of small towns that once were summer escapes for the Ancient Roman aristocracy. Nemi doesn't have a castle like many Castelli Romani towns. What it has is one of the prettiest lakes in Italy. 
It also has what many view as the sweetest strawberries in Europe. We went once during strawberry season and had everything from strawberry tarts to strawberry gelato to strawberry pasta. I made up the last part but the fruit here is so sweet it might just work.
Nemi has a strong historical connection dating back to the Roman Republic and to a goddess who held sway over the public for centuries. Like to hunt with a bow and arrow? Come to Nemi and worship at the former temple to the goddess of the hunt.
1 • Lago di Nemi. When you arrive, go to the town's edge and stare down at the almost perfect sphere that is the lake. There's a pretty tree-lined pathway where you can walk down to the lake which has attracted Romans since the Roman Republic. During Emperor Caligula's star-crossed reign from 37-41 AD, he built a huge, no-costs-spared barge where he held his expensive yachts. After he died on Rome's Palatine Hill, enemies sunk the boats. Benito Mussolini saved them but a fire destroyed them in 1944. 
Go all the way down and dine on the lake's edge. See below if you want to see what was salvaged from the boats.
2 . Museo delle Navi di Nemi. The museum, located on the lake's north shore, has two wings. One is dedicated to Caligula's ships. They include two hulls measuring 71 x 20 meters and 73 x 24 meters. It also features two anchors and a reconstructed bronze roof. The second wing is dedicated to the Temple of Diana during the Republic and Imperial Age. The museum first opened in 1939. At one time during Ancient Rome, Nemi had one of the largest temple complexes on the Italian peninsula. It was dedicated to Diana, the goddess of the moon and the hunt. Artifacts of the temple can be seen in this museum. Also on display are relics from Caligula's ships that were sunk and then burned. The fire in 1944 destroyed it. It reopened in 1953, closed in 1962 and reopened for good in 1988.
Info: Via Diana, 39-06-939-8040, drm-laz@cultura.gov.it, www.direzioneregionalemuseilazio.cultura.gov.it, €5, 9 a.m.-7 p.m., Tuesday-Sunday.
3 • Temple of Diana. On the north shore of Lake Nemi, you'll find some ruins that resemble the base of temples. These are the ruins of the Temple of Diana. Built in the 6th century B.C., they are dedicated to Diana, the Roman goddess of the moon and the hunt. During the Roman Republic and Empire, hunting was a major part of Roman culture. Her importance grew. She later became known as the goddess of the countryside and goddess of fertility and childbirth. She's usually depicted with a bow and a quiver of gold arrows, a gold cloak, purple boots and a belt with a jeweled buckle. For years a Diana festival was held every Aug. 13-15 when pilgrims came to the site carrying torches and garlands. The site was abandoned when the Roman Empire fell and forest covered it. Amateur archaeologists excavated it in the 1600s. The site remains open and free to the public.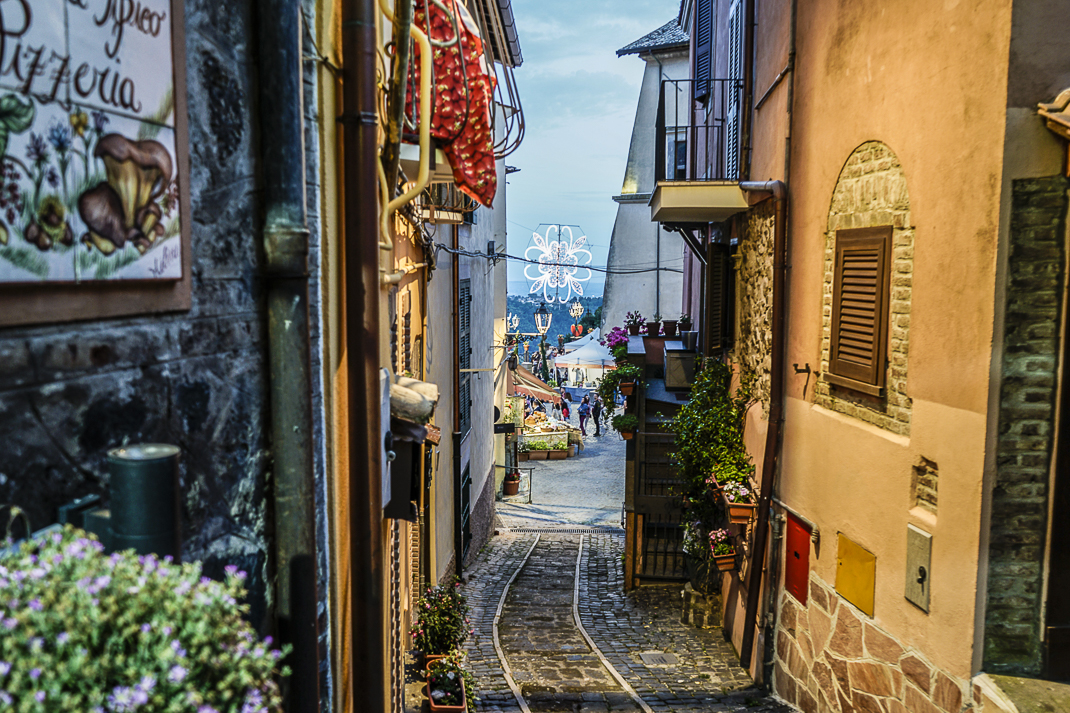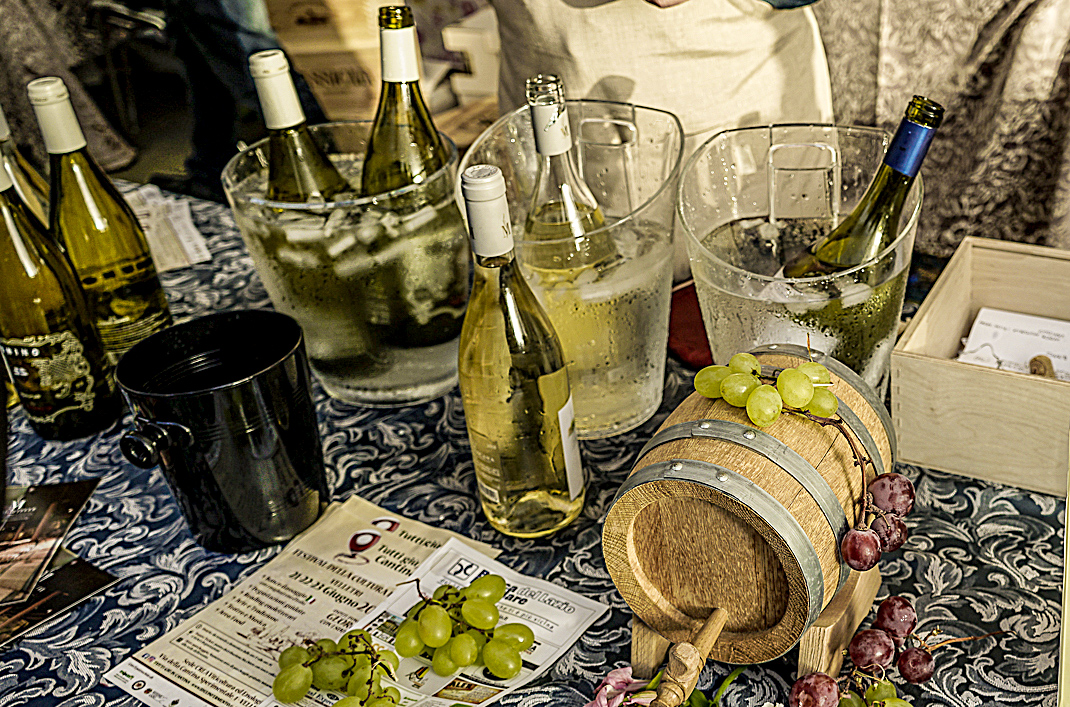 Sagra delle Fragole
If you come to Nemi, come in June. Not only will the 1,800-foot (550-meter) elevation be a relief from Rome's rising heat, but it's when Nemi holds its annual strawberry festival. May and June is strawberry season and nearly every shop on the town's narrow main road and piazza sells strawberries in every imaginable form. You have a choice of strawberry liqueur, strawberrycello, strawberry tarts, strawberry jams, strawberry creams, strawberry grappa, strawberry bread, strawberry fruit salad, strawberry smoothie, to name a few. I had a strawberry "tortine," or tart, a tiny droplet of cream topped with little pieces of strawberry in a little bitty pie crust. This year will be the 90th edition and is scheduled for June 4 starting at 10 a.m. with free strawberry distribution at 7 p.m. The event also includes live music, flower shops and children's events.
30 miles (53 kilometers) south of Rome.
How to get there: Take the COTRAL bus from Rome's Anagnina Metro station to Genzano di Roma. The 50-minute journey changes at Lazio Albano and is €2-4. In Genzano change buses for the five-minute trip to Nemi. Cost €1.
Trattoria dei Cacciatori da Tiberio, Piazza Umberto 1, 39-06-936-8096, noon-2 p.m., 7-10:30 p.m. Thursday-Monday; noon-2:30 p.m. Tuesday. Simple, small trattoria specializing in game meat with excellent cheese plates. Try the pappardelle e lepre (wide, flat noodles with wild hare meat) and don't forget the excellent local Castelli Romani wine. I paid €27 for dinner for two.